MORTGAGE EZY INVESTS IN CHILDREN'S FUTURE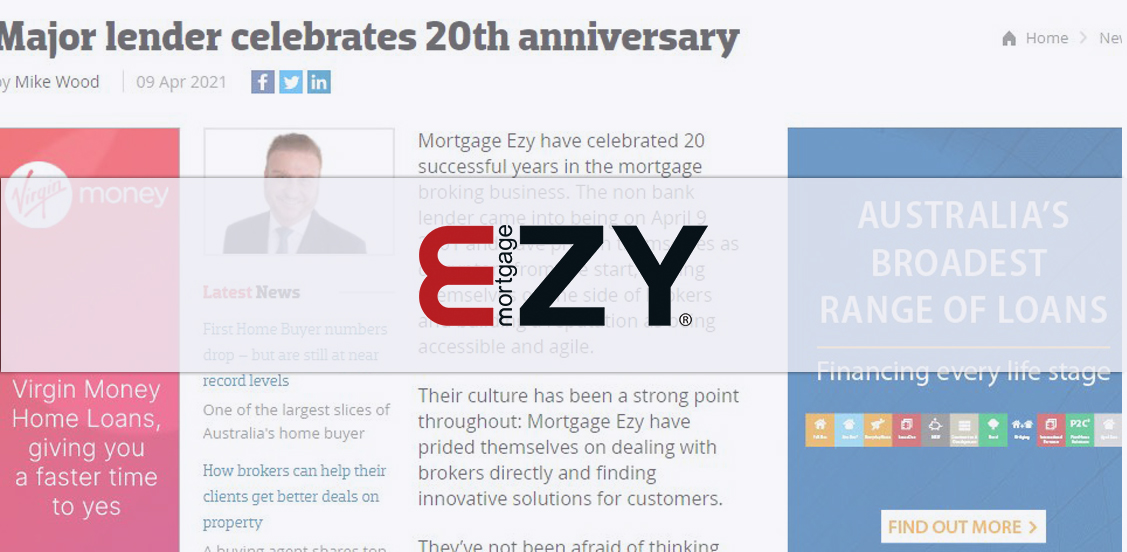 Non-bank lender Mortgage Ezy is transforming the lives of 12 high school students in Kenya, setting up direct intervention education scholarships to help them find a way out of poverty.
Living in the lucky country got Mortgage Ezy executive chairman Peter James thinking about how fortunate Australia was when it came to navigating the COVID-19 pandemic. In his Christmas message to staff at the Gold Coast-based lender and mortgage manager, James said he and the team at Mortgage Ezy felt so much gratitude to be living in Australia and were mindful "of the great suffering occurring in many parts of the world right now".
Instead of Christmas parties, gifts and hampers, he said Mortgage Ezy would redirect that money to "give a gift that keeps on giving" by setting up direct intervention scholarships for 12 deserving and disadvantaged young people in Kenya.
Australian Broker caught up with James and Mortgage Ezy project manager Winnie Masibo, who is originally from Kenya, to find out more.
James says Mortgage Ezy has supported a number of external charities over the years, but this is the first direct intervention program the business has initiated.
"That's why I got Winnie involved, because she's got contacts in Kenya and it meant that we could ensure that every dollar that we donated was used for the kids in a direct way," he says. "COVID in Kenya is at epidemic proportions, and of course attention is on COVID, but there's still these basic needs that these kids have."
Masibo completed an MBA at Macquarie University, did an internship at Mortgage Ezy and was hired full-time in January.
With the help of an agent in Kenya and volunteers, Mortgage Ezy has selected eight girls and four boys, aged 13 to 15 – for the program. It will pay the cost of their high school education, including boarding fees, uniforms and textbooks, right through until they start university.
"We've got students at high school level who are having financial difficulties completing their education," Masibo says. "It's a mixture of boys and girls, different locations, different schools, so we'll pay for their fees all the way to the end of high school, which takes about four years."
James says a small group of volunteers in Kenya are providing assistance by helping with the selection process, identifying any special needs and making recommendations.
"There was one boy, for example, that just didn't have appropriate clothes. There's others who didn't have books; they couldn't afford the textbooks and supplies. There's other kids that have had some emotional upsets and so forth. So it's just about identifying the need and intervening to make sure they've got the best chance of success in their schooling.
"Our philosophy has been whatever we need to do to support the child staying in school and prospering in their studies we're willing to consider … what I'm excited about is to make a difference in these kids' lives."
James says a lot of the children are inspired by Masibo. "They're seeing her as a great role model, and what is possible. You know I'm sure that some will even rise above the levels of Winnie, but she's an inspiration."
He says the students, who all attend boarding schools, also know their report cards are being monitored.
"Now that's not to say that we're asking for, you know, an A-grade average, but we expect them to improve, and we expect that their attitude and efforts will be commensurate with them keeping their place in the scholarship program, because we want to make sure that it's a gift that keeps on giving.
"The schools they're attending are excellent schools in Africa. So it means that not only will they be assured of a good job at completion, but that will flow into their communities and families as well. So that's our hope."
Unlike Australia, public high schools in Kenya are not free – they are expensive, costing more than private schools, but provide a better education. Annual school fees can range from $400 to $1,500 a year, plus boarding fees. Students' grades in primary school determine which national high schools they can attend.
"It's based on merit," says Masibo. "So you go to high school depending on your grades in primary school. And then you have the option to choose private, of course, if you have money, and you have the option to go to public or national schools, which perform better, at the end of year four. So that will give you the better grades to go to university."
Many of the students come from poor backgrounds and have parents who are unemployed, with many mouths to feed. Masibo adds that students on the program are living far from home, but they get proper meals and places to sleep.
Some of the teens have written touching letters seeking support and describing their difficult circumstances, which have been published on Mortgage Ezy's website [see one girl's story in the boxout opposite].
Masibo says some of the students couldn't attend school because their fees were in arrears, so the program covers those balances.
Program volunteers in Kenya contacted schools in all seven counties looking for students who had performed well but were not able to pay their fees.
"So they're all spread throughout the country; there are students from the west, the coast, Nairobi … it was really hard choosing, because what happened is we got so many applications," Masibo says.
"We're looking at them going through high school and making it into university and getting a good job and just getting their families out of poverty – they could be the hope of their families."
Due to COVID, neither Masibo nor James have been able to visit the students, but the volunteers have direct contact with the schools and send letters and emails. James says there has been an outpouring of gratitude from the students.
"Some are just keeping us posted on the activities that they're now involved in and how they're loving the fact that they're able to concentrate on their studies. Some kids were saying that … now they've got the right uniform, no one is making silly jokes at them; they're able to fit in and feel comfortable in the school community. That's just wonderful."
James says Mortgage Ezy hopes to expand the program next year to cover more students. "I've got lofty goals. My goal in the next 12 months is that we can help 100 students."
Brokers and other firms and individuals have told James they want to be involved, and he says if there is enough interest Mortgage Ezy might set up a formal charity.
"We've consulted with a solicitor and an accountant about setting up a charity, and the concept for us is about having the direct connection with a student. Here, you have a relationship with that individual and you feel a great sense of satisfaction with knowing that you're able to make a huge difference, not just to them but their families and communities as well."
James says by going to better schools the students will have a great chance of getting into a good public university, at a fraction of the cost of a private university.
"Our hope is that those students that graduate to public university, we can help sponsor them if necessary as well. So we're really looking at the journey to take these kids into their professional lives and trades."
---
A LETTER FROM SCHOLARSHIP RECIPIENT GLORY TATU MENZA
I am schooling at Ngala Memorials Girls and am currently in form one. Am coming from Malindi-Watamu village. Am 15 years old, am coming from a family of seven children. My hobbies are reading and singing, my career is to pursue medicine. My goal is to complete my studies at all levels and continue up to university and masters.
My father has no job although his is the bread winner, but it seems hard for him because he's now suffering from pressure.
Life is so hard to my mum too because she's not employed, every sunrise she walks to the streets looking for labour jobs.
I was happy when I joined a boarding school. But it hurts me, because for every re-opening and closing of schools I have to walk a long distance. We usually eat hard maize with beans (kitheri) when am at school. During the holidays I often spend the days without eating.
It is so hard for me to do my assignments at home during the holidays due to lack of light during the night. Which lead to the lack of self-studies. I live in a makuti house but when it rains a lot of water drops and it damages my books, my school uniform and our households.
Yours faithfully,
Glory Tatu Menza
Original article